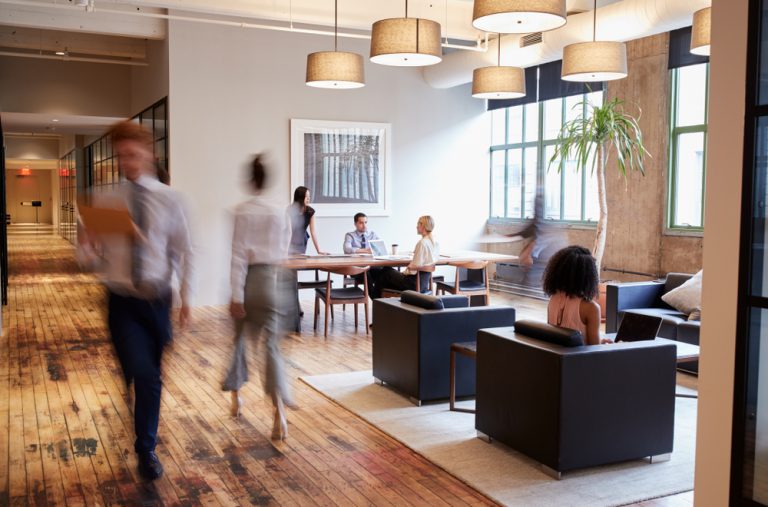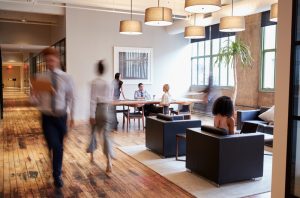 Over the past few months, many people have predicted the end of the workplace office as we know it, simply because it will no longer be a safe, or viable solution to business owners. Though, we see things a little differently and believe that with the right ideas and design changes, our old office spaces can be just as reliable as they were before, after the Coronavirus pandemic finally comes to an end.
To carry out our research we've tracked down the proposed solutions from a wide range of sources and analysed the best of them for your enjoyment. Throughout this article we'll be giving you our views on a few of the best ideas we've come across online, as well as adding a couple of our own original thoughts for your consideration. This doesn't have to be the end of the office workplace, but you'll need to be aware of the changes you'll have to adopt and make.
The hospital design
The BBC have reported on the prediction that office layouts could start to look a lot more like hospitals, they write, "In the longer term, experts predict that society's heightened awareness of contagious diseases could usher in a new type of office – one that has elements in common with a hospital."
They continue, "Capron, who has designed office buildings for hospitals and worked with healthcare interior teams, is now applying that knowledge to designing office spaces. "One of the guiding principles is choosing materials that can withstand heavy cleaning using caustic products. You'll see porous surfaces like natural oiled wood avoided, with a preference for stone or laminates," he says. He also expects to see solution-dyed carpets with moisture-barrier backing used, because they can withstand heavy shampooing".
Designing your office to look and operate like a hospital may sound scary at first, but they are perhaps the buildings that are most suited to safety and keeping people distanced when it needs to be done. Don't be afraid of taking some inspiration from hospitals, they are built to function in the safest way possible, much like your office spaces should be.
Staggered shift work
Staggered shift patterns are already something that has come into effect in many places of work and I fully expect the workplace office to be the next adopter of this method. It makes total sense to have the time of people finishing work different to the time that others will start their shifts. This is a sure fire way to have less people crossing paths at work and therefore help with sticking to the social distancing guideline
Architizer believe that the switch to staggered shift patterns will be the most logical long-term solution to continuing to combat the virus beyond lockdown. They write, "Creating a staggered attendance plan — effectively bringing shift work to the corporate workplace — coupled with zig-zagged seating arrangements in open work areas is a logical solution that has started popping up in a lot of return to office strategies."
Thy go on to speak about their own experiences as a company by stating, "Many companies, including ours have pushed surveys to gauge the willingness and ability of workers to come back; an important first step in understanding the scale of the problem. Initial responses across the board seem to indicate that 30% of workers are unable to return to office based on childcare needs, personal health issues, or other circumstances".
Distance markers will become normality 
It is very likely that from this point onwards, distance markers will be commonly found in offices around the globe. Social distancing isn't something that's likely to go away any time soon, so we can all expect to be sticking to a distance of at least one metre away from one another for the foreseeable future while at work. Having distance markers on the floor is a great way to clearly indicate to your staff team where it is safe for them to be working and it'll also keep the message in their mind that they shouldn't get too close to their colleagues.
When we now visit a pub or restaurant, supermarket or a retail shop, we're indicated how to move around each premises with directional arrows and distance markers, so the same idea would be easily adaptable for any and all office spaces. Giving visible guidance to your workers while they're in their place of work allows them to be reminded what they must do to comply with the social distancing rules at all times.
Minimise potential health hazards by placing distance markers around your office and keep your work force safe in the process of doing so.
One-way hallways to be introduced
The introduction of one-way hallways could be something that's sprung onto offices in the near future. You've likely already seen this concept in action without even realising it in airports or even when picking up a takeaway from your favourite restaurant. One-way systems simply state that in order to get from A to B, you must follow a specific route. In offices this will be due to Covid-19, though that will be a good enough reason for anyone to get behind the concept and utilise it within the workplace.
Due to the nature of their work, office workers often operate in an open plan room and within shared spaces, so knowing how to get around them without crossing paths with others will be essential to the longevity of the office-based work environment. By using one-way systems around the office, your staff won't have to live in fear of nipping to the bathroom or the boardroom with someone potentially coming round the corner and making face to face contact with them.
Remote working to become more common
Yes, remote working could actually play a part in saving the traditional office space. Due to the health risks surrounding Coronavirus, the less people we have in one confined space at a time, the better. This is why in order for our offices to survive, many companies may well decide to operate on a remote working timetable system, where each week different members of staff will be selected to work from home, so the office isn't becoming too crowded.
Office working mainly takes place on a computer, so many of us having access to this technology from our own homes will be a great help to the survival of offices. Working from home is something many people have become well-acquainted with during lockdown, meaning this may not be such a mammoth-sized step for office workers to take and get on terms with.
It has been predicted by many that the working from home phenomenon we have all witnessed during the UK lockdown would bring an end to offices around the country, but the positives often outweigh the negatives and if you're trying to manage a large team of people, being able to communicate with them face to face is a great way of making things tick for your business.
Office design
The design of your office has never been more crucial, no longer do you simply need to make decisions that you believe will enhance your teams working ability, you now need to make safety your biggest area of concern. The design community will find their creative prowess more useful to others than ever before, and for good reason. Think about the changes you need to make to your office space today, in order to prepare for the future.
Office work isn't a thing of the past and if the right changes are made, you can ensure the safety of your workplace environment beyond the pandemic.
Nobody knows when the pandemic will truly end, we're undoubtedly taking steps towards it being over, but it'll obviously be a very long and tedious process to get through. Prepare your business to operate in a safe environment and both you and your staff will likely have bright futures together
The end of the office space?
Of course, it wouldn't be fair of us to not mention the possibility of the traditional office space coming to an end, at least on a large scale. The disastrous effects of Covid-19 have put the world into such a state, that it'll likely never be quite the way it once was, again. This is why many people have predicted the so-called 'death' of the office space and whether we like it or not, it's just something that we'll simply have to consider and admit could be true.
Though throughout this article we have pointed out reasons why the office can survive and once again thrive, there is indeed a slight chance that we've witnessed the end of it. Many businesses will be letting go of their old offices for many different reasons. They may have shut down and are no longer in business, they may well have found that they can manage without it, or they may just be much more financially stable without having to pay for it.
Whatever the reason may be, if you're a business owner that's considering doing away with your old company offices, it'll more than likely be because you've discovered that things aren't all that bad without it. The UK lockdown has given us all time away from work in one way or another and for many, the cost-effective benefits of having a staff base that work from home have proven advantageous.
Is the end nigh?
The BBC have reported that it could most certainly be the end of offices as we know it in Wales, as well as a few other areas of the UK. They have reported that, "Nearly half of all working adults (49%) in the UK are working from home due to coronavirus, according to the latest figures. Before the pandemic, it was just 5%."
"If workers are to return to a central office, businesses are having to adapt to adhere to social distancing guidelines. Staggered shift patterns, re-organising workspaces, flexible hours, extra cleaning and even one-way systems and temperature checks are among the measures many of the biggest private companies in Wales are introducing. But some workers are unlikely to ever return".
There will undoubtedly be changes to face for those that are returning to office work in the coming weeks and months, though a second wave of Coronavirus in the UK could put an end to any such plans, if it is to strike once again. For now, we will have to wait and simply hope for the best
Getting your staff to work in bubbles
We're seeing the use of 'bubbles' being used in all areas of society recently, including family members that want to spend tie at each others homes during the pandemic, school children only being able to spend time with others that are in the same bubble as them, and so on. Though, the office space could be about to receive the same bubble treatment, that is if they want to make it to the future.
For those of us that work for a large company or as part of a widespread group of people, being divided up into bubbles may be the only possible way to continue to work in our beloved offices. This would fall into a similar category to staggered shift patterns, but you'd always know who you were going to be working with, as they'd have to be other people that have been designated to work in the same bubble as you.
Why the bubble was originally designed 
Though it may well become a key part to the future of your office space, the bubble concept was actually developed by the government for a very different reason. They developed the idea so that people could continue to follow social distancing guidelines, but also get to visit loved ones that may have been on their own for an extended period of time.
This is what the government actually said, "You should only meet people you do not live with in 3 types of groups:
you can continue to meet in any outdoor space in a group of up to 6 people from different households
single adult households – in other words adults who live alone or with dependent children only – can continue to form an exclusive 'support bubble' with one other household
you can also meet in a group of 2 households (anyone in your support bubble counts as one household), in any location ‒ public or private, indoors or outdoors. This does not need to be the same household each time.
It remains the case ‒ even inside someone's home ‒ that you should socially distance from anyone not in your household or bubble. Those who have been able to form a support bubble (which is those in single adult households) can continue to have close contact as if they live with the other people in their bubble. This should be exclusive and should not change. This change also does not affect the support you receive from your carers".
It's easy to see how this could be adapted to fit in many different working spaces, including offices. Ensuring your staff are only able to work with certain individuals is the perfect way of getting around the closure of your own office space. It is a safe and proven way of continuing to combat the spread of Covid-19 while also being able to get back into the working routine.
Update
Unsurprisingly, the Government has decided to backtrack its not-so-genius idea of sending office workers back to their offices during a global pandemic. At a time when we're all supposed to be keeping well away from one another, the only solution is to work from home whenever it is possible for you to do so.
This jumbled mess of communicating with the general public shouldn't get in the way of the message that is ultimately 'stay at home if you have an office job'. Working from home is the solution that will see us into a safer future. We still firmly believe that the office environment I one that can thrive and succeed in the future, but right now we should all be focused on doing the right thing and keeping one another safe.
62% of Google's employees have apparently expressed an interest in returning to the office, but only on a part-time basis when it is safe to do so. If a company the size of Google sets the standard for not returning to offices, the rest of the world could listen up and follow its lead.
The Guardian have reported on this by stating, "Google is planning for a world in which many of its employees never return to the office full-time, its chief executive has revealed."
It continues, "Sundar Pichai said 62% of Google employees had expressed an interest in returning to the office part-time, and that the company would try to accommodate that desire even after the Covid pandemic subsides".
This seems to suggest that offices may become a part-time thing for all of us in the near future, though I'd still expect them to eventually return back to normal, eventually.
The choice will be yours to make
As the manager/boss of the company you'll also be able to pick your teams' bubbles on who you think will work well together and what groupings will prove to be the most effective for your company during this strange time. This could add a sense of structure and coordination back into your business if you've had your staff working from home. No longer will you need to rely on emails or conference calls to communicate directly with members of your team, you could have them back working together once again, albeit in smaller groups.