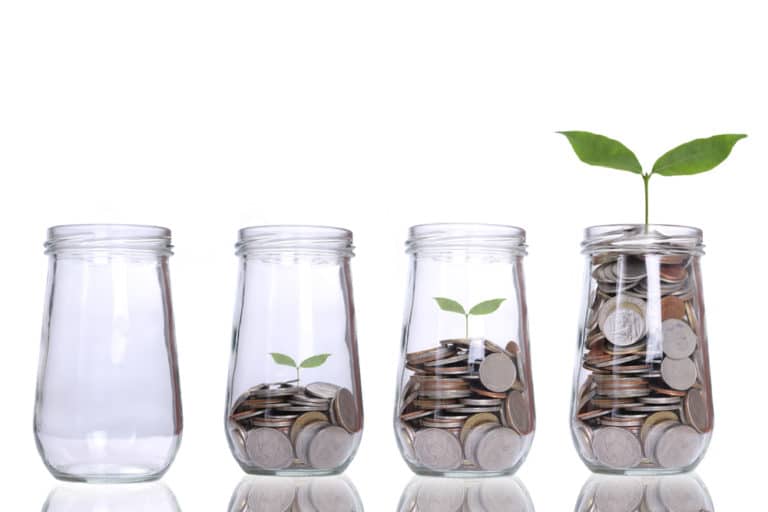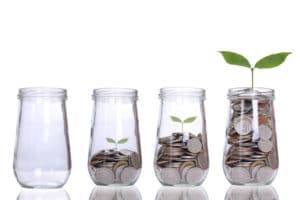 Debt Factoring is a finance product that allows business to receive an advance on unpaid invoices from their customers which will support an improved cash flow.
The good news is that debt factoring could be an accessible and affordable option. Waiting for clients to pay their invoices can be frustrating and, despite attempts from governments to improve the situation, it's getting worse.
Indeed, many of the businesses which fail over the next year will do so despite otherwise being in a healthy financial position.
However, there could be a solution in the form of debt factoring. Debt Factoring is simply an alternative term used for Invoice Factoring in the UK.
What is debt factoring?
Debt factoring is is a finance facility for companies, it allows unpaid invoices to be used as collateral for a loan. The business will be given up to 90% of the invoice value almost immediately from the point of raising the invoice, therefore reducing the cash deficit for the small business.
Debt factoring is proven to help businesses grow and prosper and is an excellent alternative to a bank overdraft.
A quick definition of debt factoring is when a business selling their invoices to a third party at a discounted price in order to bypass the hefty waiting times which are associated with invoice payments.
It has become especially popular with SMEs due to its ability to provide them with instant access to capital and speed up their processes.
How does debt factoring improve cash flow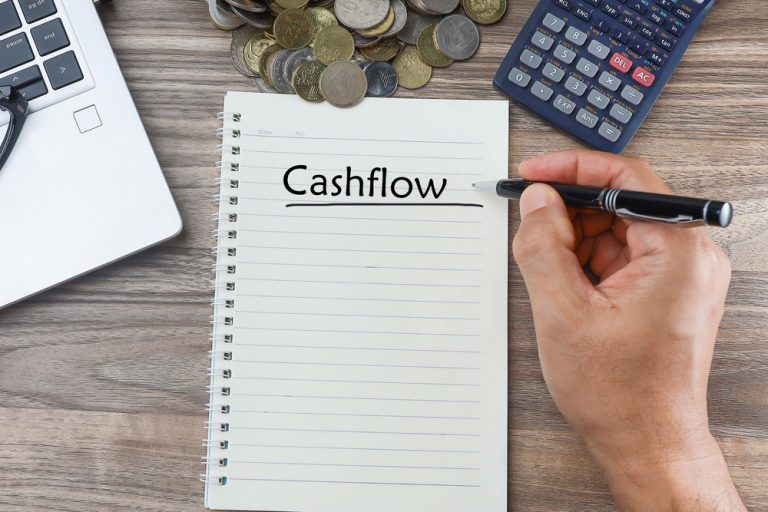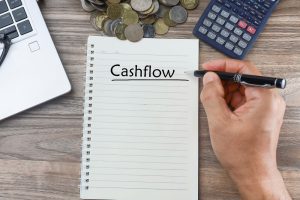 Debt factoring can fast track an invoice payment for businesses by significantly allowing faster access to revenue that is owed to you by your customers.
In short, it means that you will never have to wait the full term of your invoice to get your cash. This is an important factor as businesses that are made to wait for their remittances have to wait 30, 60 or 90 days to be paid. This places severe strain on a businesses cash flow position.
The fact that in the month of October 2021 there was 1405 companies that declared insolvency, more than half – 54%  – reported inadequate cash flow as the reason.
That's not surprising, given the average time taken to pay invoices by businesses based in the United Kingdom is 51 days. The average time it takes large businesses to pay small businesses is even worse.
So let's consider how beneficial it would be to get your invoices paid almost immediately via debt factoring.
Once it's therein your bank account and available for you to:
Pay – other suppliers and business expenses (e.g. wages, tax and insurances)
Buy – new equipment that is needed
Use – to grow your business
Without having instant access to the money that is tied up in your accounts receivable ledger, all of the above would need to be funded out of the businesses profits or working capital. With this in mind, unless cash flow is particularly strong from other financial sources, then the business will not grow. You will be throttled and opportunities will be missed with no ability for growth due to not having the cash flow to support them.
An important issue here is that cash flow isn't something you can sort out once and never think about again. In order to run a successful business  you will need to maintain a strong, steady cash flow over time. Due to debt factoring not being a one-off loan, this type of finance gives you ongoing access to cash flow, its like a line of credit. As the business grows and raises more invoices, you have access to more cash.
An example of debt factoring improving cash flow is: In the month of June you made £100,000 worth of sales. Debt factoring would realise up to £90,000 of cash almost immediately.
Then you win a new contract, and take on new customers, this would increase your sales to £150,000 in July, the availability of ready cash that you could use would raise to £135,000, subject upon the agreed borrowing size.
This will assist in the acceleration of business growth, which in turn will lead to the issuing of more invoices, which finally will realise tied up capital with unencumbered cash flow eventually.
Types of debt factoring
The two types of debt factoring that are using are known as recourse and non-recourse. With recourse factoring, you remain liable for payment of the invoice.
This means if your customer does not pay after a specified period, you must pay back the advance and the factoring company's fee. This is why most lenders will ask if you require invoice insurance, this will have to be paid at your own cost.
By using non-recourse factoring, the risk of non-payment passes to the factor. If the customer does not pay, you keep the cash advance and the factor takes the loss.
By using none recourse it can relate to having to pay a higher fee for this type of debt factoring. It time it takes to arrange financing as the factor will check your customers to make sure that the invoices you're factoring stand a good chance of being paid on time.
How does debt factoring work?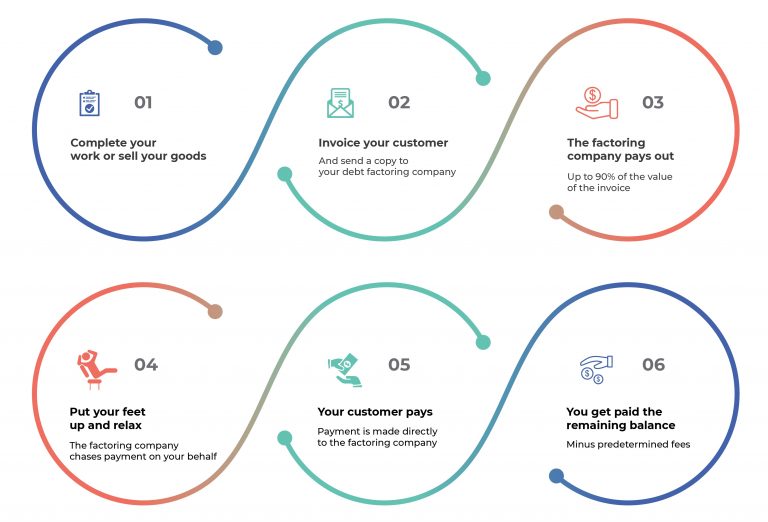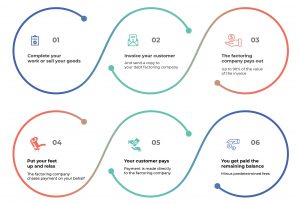 There are three parts to make debt factoring work, there's are: a business, a client, a debt factoring company.
The Business could be any type of company that sells goods or services, the company does need to trade with their customers on credit terms.
The client is the entity, this also needs to be another business who bought the product or receives the service and is responsible for making the payment for goods or services.
The debt factoring company is the party who buys the original invoice from the business and collects the payment from the client when the invoice is due.
Within 24 hours the debt factoring company will pay the business a percentage of the invoice value due by your debtor.
Once the debt factoring company collects the full payment from the client, it releases the remaining percentage of the original invoice amount due by the client, minus a factoring fee.
Debt factoring advantages and disadvantages
There are a number of advantages and disadvantage to debt factoring, we have lists a few below:
Advantages of debt factoring:
Overcoming short-term cash flow problems: If late invoice payments are causing you financial problems, this can be a quick and affordable solution. You'll have the majority of the money owed to you in your account in time to make all your payments. This can help you avoid paying your own suppliers late and damaging your financial standing.
Reducing stress: Late payments of invoices can be immensely stressful for business owners. As such, this can be great for your own peace of mind and help you to sleep more comfortably at night.
No impact on your credit score: Unlike a loan this will not have an impact on your financial footprint. That's because this is an advance on money which is already owed to you.
Bad Credit? No problem: If you have bad credit, securing a loan can be more difficult, but a debt factoring company will not take as much notice of your personal financial history. Although they will take it into account when setting their fees, it is not your credit rating they are worried about as much as the chances of your invoices being paid.
Reduced admin: As part of the service, they assume responsibility for chasing the invoices. This reduces the administrative burden on you and your team and frees you up for other things.
Disadvantages of debt factoring:
The business must have a turnover or expect a turnover of at least £75,000.

The customer spread must be good good.

Customer base must be at least three clients.

The business must offer sales terms on its goods or services.
Requirements for debt factoring
Those companies wishing to access a debt factoring facility will need to consider whether they fulfil the following qualification criteria:
Must have a turnover of at least £75,000 per year.

Funders will only arrange facilities for businesses operating in the UK.

You'll also need to ensure that the credit terms offered to your customers when raising invoices span from 30 to 90 days.
Companies that use debt factoring
There are a number of company types that use debt factoring. In order to use this type of finance a business needs to trade with another business on credit terms of 30-90 days.
Equally, a business which has a smaller number of clients owing a higher value of invoice means there is a particular cash-flow vulnerability to late payments.
Certain industries tend to utilise some sort of invoice finance facilities more than others:
Manufacturing

Logistics

Recruitment

Wholesale
Is Debt Factoring short or long term term?
Debt Factoring can be a long and short term form of working capital. Businesses that include Debt Factoring within their general business operations, include the overall associated costs factored into overall profit margins.
As the majority of businesses have incorporate debt factoring within their general business operations, the associated costs are factored into their overall profit margins. This incorporation shows a trend the facility is required as more of a long term solution.
Is Debt Factoring expensive?
The cost of debt factoring is covered in to three key areas:
There is an initial set up fee for the administration of establishing the facility.
Next there is a service fee which covers the admin costs and management related to your account. This service fee is then charged as a percentage of your gross turnover.
Lastly there is a finance fee which is the cost of the money you draw down. This charge is taken daily against the outstanding balance.
All finance providers will offer a transparent view about their fees and costs related to the facility prior to signing the agreement
Apply of a Debt Factoring Facility 
To apply for a debt factoring is it simple. If you feel that our factoring services can support your companies cash flow and growth plans, simply complete the online enquiry and someone will get in touch.
F.A.Q's
What is Debt Factoring in Business
Debt Factoring in business involves a seller which is usually the business, to sell their invoices to a third party usually a factor at a discounted price. By doing this it allows the business not to wait the term time of 30, 60, or 90 days to be paid. Business use this type of debt factoring in order to maintain a positive cash flow.
Debt Factoring Agreement
A Debt Factoring Agreement involves the sale of an unpaid invoice by a business to a 3rd party finance/factoring company. Businesses use Debt Factoring in order to receive up to 90% of the invoice's value in advance of the payment from the customer without waiting the full term.