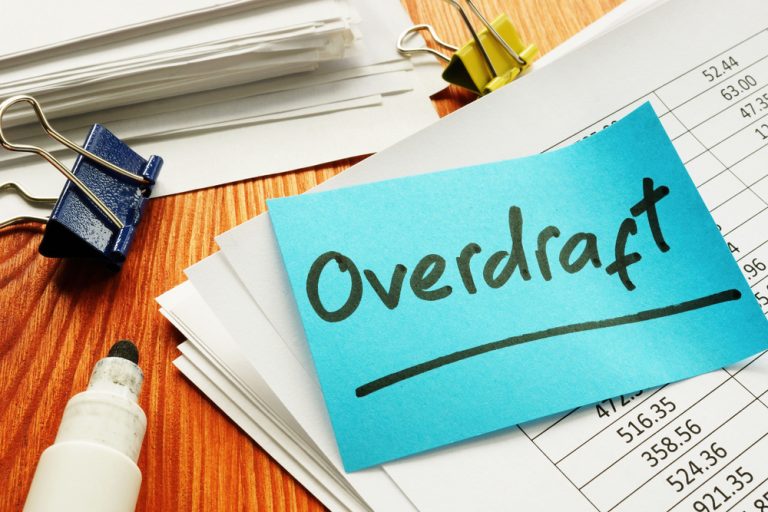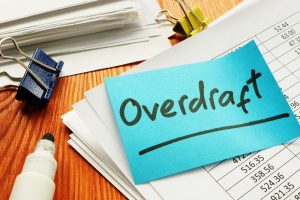 An overdraft is a financial arrangement which allows you to continue making payments, even when there is no cash left in your bank account. You can use this on paying wages, covering day-to-day expenses and more.
Business overdrafts can be a great way to give your company spending power when it wouldn't otherwise have any. This would only ever be used when it is absolutely necessary, therefore, it can be a valuable short-term funding solution.
What is a business overdraft?
A overdraft is when your business bank account has use of a seperate finance facility. Companies are able to apply for an overdraft with their banks, though that doesn't mean you have to use the money, it can just work as a form of security if you'd prefer.
For instance, if you think cash could possibly run a little low this month, and your cash flow may suffer though you aren't sure, you may consider an overdraft facility without being sure you'll actually need it.
Overdrafts are not a secure source of medium- or long-term business finance, as banks are able to reserve the right to ask for repayment upon request. If you need medium or long-term solutions, see our section of alternative financing deeper into this article
.In June 2019, the Financial Conduct Authority (FCA) published an article. This confirmed that it was their intention to be a 'shake-up to the overdraft market' (PDF).
The new rules will come into place in April 2020, they are designed to make overdrafts easier to manage and fairer to the borrower.
Why would a business use an overdraft?
A business would use an overdraft to cover unexpected expenses. Many businesses choose to use an overdraft because it is a quick and easy way to get the money they need. Another advantage of using an overdraft is that it can help businesses avoid bounced checks or late fees. In addition, an overdraft can provide a safety net for businesses in case of emergency.
For example, if a business needs to make a large purchase suddenly, an overdraft can help them avoid taking out a larger loan with higher interest rates. Overall, an overdraft can be a helpful tool for businesses when used wisely.
How does a business overdraft work?
A business overdraft works by allowing you to access funds within your current account once the balance drops below zero.
The money has to be repaid, but businesses take advantage of these types of facilities. Like business loans or business credit card, interest is payable on the amount of credit borrowed. Once you the outstanding figure has been repaid, your account goes back above zero, you will then stop paying interest on the amount you used.
Business overdrafts have a limit, this limit is set by your bank. The limits of the overdraft vary from hundreds of pounds to millions, these amounts  are determined by several factors. These include the business turnover, credit history and its fixed assets.
Should the businesses cash flow circumstances change, there is a possibility to increase the overdraft limit. Banks will only do this if they believe the business can effectively pay back the additional new funds it has borrowed.
If the bank is worried about the repayments of the overdraft not being met or the company is asking for a large sum, the business overdraft might be turned into a facility called a 'secured' overdraft.
This means that the bank will require security from the company, by way of a charge on a property, a debenture on the company or a personal guarantee.
Types of Business Overdraft Agreements
There are different types of overdrafts, the most common of which is the authorised overdraft. In this instance, you would have a pre-arrangement with your bank to have an overdraft included in your account, and there won't be any extra charges to take you by surprise. Here, you will have already accounted for interest rates or daily charges, etc.
On the other hand, you have unauthorised overdrafts, in which you would not have agreed with your bank in advance. This is where things can become rather tricky to keep up with and you could end up paying for things you cannot afford, without the security of an overdraft. Interest rates will normally be much higher for an unauthorised overdraft, so they can get really expensive, really quick.
Costs of an overdraft 
Overdrafts are forms of lending, and so, costs come along with them and they are subject to charges. This is similar to all kinds of business funding you may come across throughout your career. The charges that could be included in your overdraft are interest, arrangement fees, minimum repayments, and penalty fees if you exceed your spending limit.
If you are not familiar with agreement fees as of yet, you should know that they normally cost several hundred pounds for a 12-month agreement. However, this fee will be based on the size of the facility.
Interest is likely something you are far more familiar with and will be calculated on the amount of cash you borrow. This fee can therefore change daily, so please remain aware of that. Once you have your agreement, it can be so easy to build up interest costs as you constantly drop into the red and spend a little more than you are able to.
Advantages to a business overdraft
Overdrafts are highly useful for short-term business funding
You only borrow when you need the cash, you do not have to use the full amount
This is a flexible funding solution, as you can reach an agreement that suits your business' needs
You will only ever pay interest on the overdrawn balance, which is a positive for those that are smart with their finances
Disadvantages to a business overdraft 
Overdrafts are sometimes difficult to extend if additional funding is ever needed; access to funds can become limited or even cut off completely
You can be hit with unexpected overdraft fees or charges if you do not select the right option
Banks are able to call in an overdraft at short notice, making things difficult to deal with and unexpected at times
Business loans will often allow you to borrow a higher amount of money than overdrafts
The allowance will be based on your business' income, which means some companies will struggle to get funding when they need it the most
Business overdraft alternatives
Having a business overdraft can be extremely helpful when you are starting up or running a business. It can provide you with the financial flexibility to cover unexpected costs or take advantage of opportunities as they arise.
However, there can be some downsides to having an overdraft, including high interest rates and fees. If you are looking for alternatives to a business overdraft, there are a few options to consider.
Invoice Factoring
If a short-term funding solution will not cover the costs of what your business venture needs, business overdrafts will likely not be the best option for you. If your company relies on payments from invoices, but is often hit with late payments, etc. Invoice Factoring will be the ideal solution for you.
Merchant Cash Advance
Does your business take a high amount of credit/debit card payments? Then you should consider Merchant Cash Advances. This form of unsecured funding will advance you funds, which you will not repay until your business makes more money from sales. If you have a slow business month, you will pay back less than expected.
With a Merchant Cash Advance, you have so many options available to you, so you can move to new premises, hire new staff, refill your stock, expand your company; the options are almost limitless. Therefore, more and more people are considering unsecured financial options as time goes on, they are seen as a huge boost to small business ventures across the world.
Business Loans
Business loans are also a respected method of financing your business, whether you are looking to get out of financial trouble or looking to take the next step in your career. With a business loan, you choose exactly how you use the cash, and you will not face input from other people unless you actively seek out their guidance.
Asset Finance
Asset finance allows you to buy new equipment for your business, or if you already own the assets like vans and machinery in your business, that have been paid for, you could consider leasing them back. That way, they stay in your business, but it releases the cash that you have tied up in the equipment.
Does a business overdraft affect credit rating
Many businesses rely on credit to help with cash flow or cover unexpected expenses. While credit can be a helpful tool, it's important to understand how it can affect your business's credit rating.
One common form of credit is an overdraft, which allows you to withdraw more money from your account than you have available. Overdrafts can be a convenient way to cover short-term shortages, but they can also have a negative impact on your business's credit rating.
This is because overdrafts are considered a type of debt, and businesses with high levels of debt are often seen as higher-risk borrowers. As a result, if your business frequently uses an overdraft, it could end up with a lower credit score.
If you're concerned about how an overdraft might affect your business's credit rating, it's important to speak with a financial advisor. They can help you better understand the potential risks and benefits of using this type of credit.
Is a business overdraft better than a loan?
Many business owners find themselves in need of extra funds at one point or another, and there are a number of options available to help meet this need. Two of the most popular choices are overdrafts and business loans. So, which is the better option?
It depends on a few factors. One key consideration is the interest rate. Overdrafts typically have higher interest rates than loans, which means that they can end up costing more in the long run. Another important factor to consider is the fees associated with each option.
Overdrafts often come with a monthly fee, while loans may have an origination fee or prepayment penalty. Finally, it's important to think about how you will use the funds.
If you only need a small amount of money for a short period of time, an overdraft may be the better option. However, if you need a larger sum of money for a longer period of time, a loan may be a better choice. Ultimately, the best option depends on your individual circumstances.
Is a business overdraft right for you?
Every business has different circumstances, so the simple go to option for securing extra funds may not always be the best move, check out if Invoice Finance compared to and overdraft is the best option for your venture.
You should now have a better understanding of business overdrafts, you can be in a better position to decide if it is the right type of borrowing for your business or alternatively maybe look at a different source of funding, is right for your business.