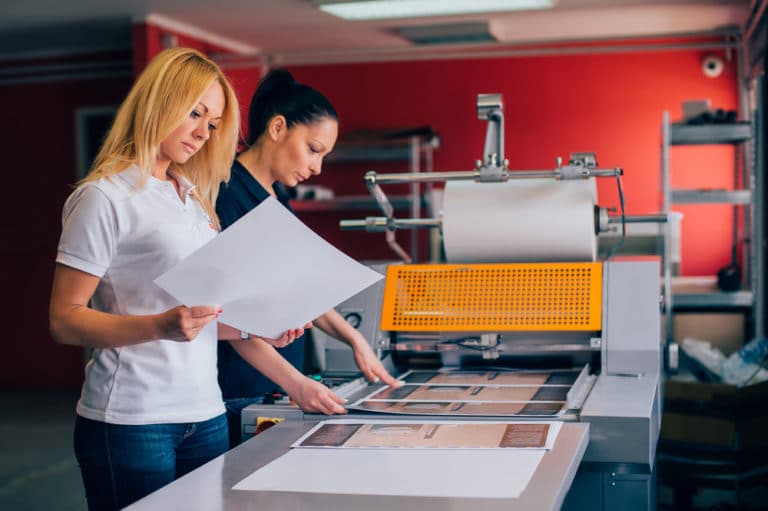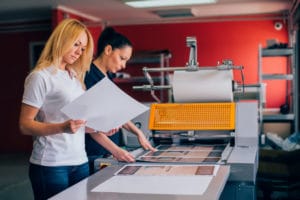 When your printing business needs a cash injection we can deliver a number of funding solutions. 
There are many reasons why a cash injection for a business in the print industry is the right decision for a business owner to take.
We believe that we can help and guide directors with the right funding solution to remain competitive in the print industry, whether you are Offset Printers, Lithography, Digital Printing Solutions business, Screen Printer, Flexography, you need to maintain healthy cash flow.
Late paying clients can negatively affect this and put the brakes on your business growth and working capital – this is where a Printing finance facility can help.
We know your Printing business can struggle through crippling overdue payments. With 30, 60, or 90-plus payment terms, your cash is tied up in invoices so how are you going to pay for necessary operational expenditure – including ever-rising taxes, machinery costs, insurance and other expenses?
What is finance for printing industry
Finance for the printing industry removes this problem and ensures you are paid the vast majority of all the money owed to you on time. This eases the financial pressure on your company as well as the mental strain on you as the business leader.
It can also reduce the strain on your administrative functions. As part of the service, the invoice finance provider will take on responsibility for managing your invoice ledger. They will handle everything including issuing reminders and chasing late payers. This takes a lot of the strain away from you as a business and allows you to focus on other things, such as securing more customers or driving your business forwards.
Raising Capital for your Printing Business
Your projects are carried out with prompt accuracy, with express delivery critical. So you may ask yourself why is it so hard to raise capital?
The problem is that when that crisis comes, banks and lenders might be hesitant to offer you a loan or a line of credit. If your business has a healthy trading history then you might be able to secure a standard business loan. But, if you have a limited trading history or have had poor credit in the past, then getting a standard loan from traditional lenders is going to prove difficult.
Before we explore the types of finance available for small printing businesses, what might be the reasons for experiencing financial strain? A cash-flow problem can happen to any type of business; usually when a business doesn't have enough money to pay its debts or liabilities.
That's why more and more CAD designers and 3D printers have found a way to manage their finances and turned to invoice finance as a solution for a cashflow injection. This cash injection solution ensures instant day to day cashflow and working capital are readily available.
Types of finance for the Printing Industry
Whether you are already running your own printing business or considering starting up, we can help you find the right type of funding option to help you build your business:
We can help you secure the following types of business finance.
Invoice Factoring – Invoice factoring for printing and press firms is when a business sells its invoice to a third-party company. It's a form of invoice finance and will give your business an effective way to improve its cashflow position.
The invoice factoring provider provides the credit control service to recover payment of the unpaid invoice. Invoice factoring companies allow you to release cash from your unpaid invoices quicker than having to wait between 30 to 90 days – and sometimes up to 120 days – for your customers to pay you.
Invoice Discounting – Invoice discounting for printing firms is an invoice finance facility when a company's unpaid invoices are used as collateral for a loan. Invoice discounting companies enable businesses to leverage the value of their sales ledger.
With an invoice discounting company, when sending out invoices to customers a proportion of the total amount becomes available from the lender, which provides your business with a source of working capital throughout the month while you wait for the payment of your invoice to be processed.
The benefit of invoice discounting is you maintain responsibility for your sales ledger as well as your payment chasing and invoice processing. The main difference between this method and invoice factoring is that your customer is not aware that you have taken on cashflow finance. If you prefer to keep the financial arrangement confidential from your customers then invoice discounting may be the right product for you.
You no longer have to wait up to 120 days to receive payment for your goods and services, and you remain in charge of your own credit control processes, meaning that you continue to chase late payments and therefore your customers are not made aware of our involvement.
Business Loans for Printing Companies – A business loan for a printing, press or publishing company offers you a convenient, low-cost way to finance your business activities. This type of loan can be used for almost any business purpose, such as boosting cash flow, purchasing equipment, recruiting staff and covering unexpected bills.
Small business loans provide a simple, low-cost way to borrow for your business. You can borrow for working capital, growth or expansion, and you'll get fixed monthly repayments so you can plan with confidence. Our experienced team and our innovative application process mean you will get a decision on your business loan in as little as five hours, so you can focus on running your business.
With interest rates from 1.8%-7.4% APR, no upfront fee, and no repayments or interest to pay for the first 12 months, small business loans can be much more affordable than a business overdraft or a business credit card. You can also take an unsecured loan without putting down property or assets as a security, and there's no fee if you want to pay off your loan early in one go.
The Benefits
Cash released in 24 hours after invoices are raised
Receive up to 95% of the invoice amount
Credit control can be fully managed or confidentially kept in-house
Improves cash flow for your business
Negotiate better terms with your suppliers
Bad Debt Protection (BDP) can be added to protect against non-payments
How does the 

Printing

 Finance process work?
You issue your invoice to your client, sending a copy to the lender

An amount of up to 90% of each invoice's value within 24 hours

The balance is sent to you, once your client has settled

The lender expertly manage all aspects of the supporting credit control services for you, meaning you can concentrate on your business

Your account is visible on the online portal, it is also easy to use and confidential,

Assistance is also given by your own dedicated Client Manager
Need more information
Need more information how the process works, like to know how much printing finance will cost your firm? simply complete the online enquiry form and someone will come back to you within the hour.
FAQ's
[sc_fs_multi_faq headline-0="h3″ question-0="What is Invoice Factoring for Printing Business?" answer-0="Invoice Factoring is a financial transaction and a type of debtor finance. The Printing Business sells its accounts receivable (invoices) to a third party (called a factor) at a discount. A company will sometimes factor its receivable assets to meet its present and immediate cash needs." image-0="" headline-1="h3″ question-1="Is factoring invoices a good idea?" answer-1="Invoice factoring works well for Printing Businesses that need money quickly, have reliable customers that have a history of paying invoices on time, and can afford the fees that come with selling invoices to a third party." image-1="" h
Read more: How to assess where your business is currently at