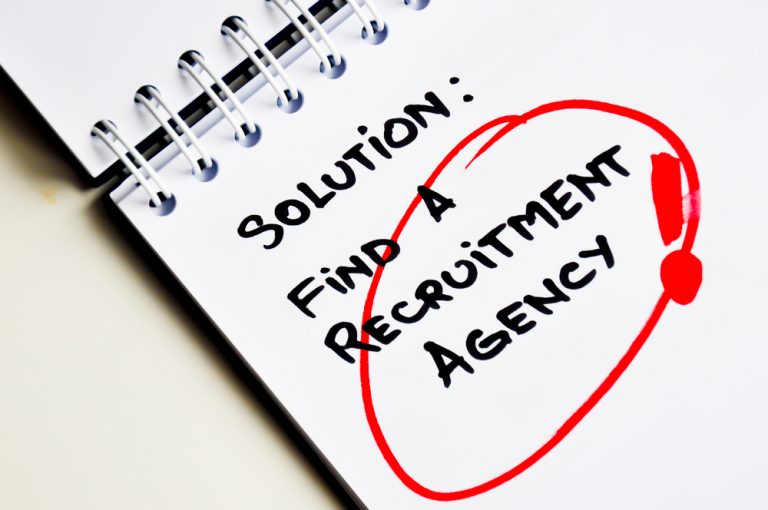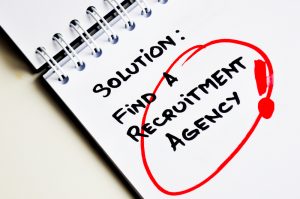 Starting a recruitment agency can be an exciting and challenging venture. It typically involves setting up a business that connects job seekers with employers, helping both parties find suitable matches.
The first step in starting a recruitment agency is conducting thorough research on the industry, including understanding the local job market and legal requirements.
Next, creating a solid business plan that outlines the agency's goals, target market, services, and financial projections is essential. Registering the business, obtaining necessary permits and licenses, and setting up financial and operational systems are critical steps.
Building a strong network of employers and job seekers, developing a professional website, and implementing effective marketing strategies are key to attracting clients and candidates. Providing excellent customer service, establishing trust with clients and candidates, and constantly updating industry knowledge are crucial for the success of a recruitment agency.
It may require hard work, dedication, and perseverance, but starting a recruitment agency can be a rewarding business opportunity for those who are passionate about connecting talent with job opportunities.
How to start a recruitment business
How to start a recruitment business in 2023, the recruitment industry is booming and now there has never been a better time to get involved in the business sector. We give you the lowdown on starting a recruitment business from scratch, including expert advice on which business model and the current regulations.
If you have ever been unemployed or looked to change your job role, or even worked within the industry you'll know about recruitment agencies.  Recruitment business owners are essentially a professional matchmaker, with your skills you match jobseekers and companies looking for the right talent.
Technically someone without industry experience can start a recruitment business with no expertise within the sector, a better match for a start up would be if you have work in the industry first to develop vital skills and build up your connections.
This in-depth guide setting up a recruitment agency start up will cover the following areas:
Determine Your Niche
The first task to set up a recruitment company is to determine which type of recruitment agency you want to establish. Your niche could be an IT-focused agency, software or an insolvency staffing team orientated business. You need to view your network and understand what field you excel at, then choose a market to provide your service.
You may wish to also consider which clients and candidates you have a strong connection with. Are these fresh graduates or are they seniors that have many years of experiance? By asking yourself these questions will help you better position your business and what niche you wish to enter.
Make sure you research
We may have already touched upon this, but it is essential that you do your market research before opening your venture, particularly in the industry you're looking to recruit within. You may have previous history of working in the sector, if so, you will likely already have a decent amount of knowledge at your disposal. However, running a business is a completely different story than working for one, so the chances are you'll still have much to learn.
Your future clients will expect your knowledge of the industry to be at an expert level, as if it is not, they will look to other businesses within your chosen industry, so stay up to date with the latest news. Try to remain aware of your closet competitors, as well as industry leaders, as you can take inspiration form both of these, even if they seem worlds apart from one another.
Keep your overheads low
You should without fail always aim to keep your overhead costs as low as possible. When you begin a new recruitment agency, or truth be told any new business, you are taking a gamble and running a large financial risk. If you can manage to start things off with low costs, you'll be awarding yourself with the very best chance of future success an continued progression.
Consider where you can set aside cash in the early stages of your business' lifespan. Do you really have to employ a large team of workers right form the word 'go'? Do you need all of that office space or could you initially work from home? These are the sort of cost-cutting questions you need to be asking yourself as a business owner when you first start out; make sure you don't blow all your money unnecessarily straight away.
Create a strong recruitment agency business plan
Prior to you launching yourself headfirst into your own startup recruitment agency, it is essential that you have a business plan to follow and fall back on if you should ever need to do so.
Setting different goals, regarding both what they ask you to achieve and how long you have to accomplish them, will give you many things to be going after at any one given time and keep your agency on the right track. Each goal should be achievable and actionable, so that it isn't out of the realm of possibility for you and your team to aim for.
It is vital that you have a clear recruitment strategy and plan for your business when beginning a new venture. Have clear goals and set yourself deadlines to have pieces of your planning done by. Not only will planning lay out clearly what you need to complete in order to achieve your business goals, it will also help to keep your finances stable. Include budgeting in your planning process and allow yourself plenty of time to complete objectives.
Put resources into marketing
Despite the fact that we suggest minimising expenses for your startup enlistment organisation, you will need to put some resources into both advertising and marketing. Obviously, you don't have to spend a fortune, however set aside some cash so that you can look after the image of your business and connect consumers with your brand from an early stage.
Get an idea of what you want to achieve as quickly as you can, this will help you mould together a strong brand for your business venture and award your new recruitment agency with a sense of identity.
Running a company website is of course essential, and SEO strategies should be at the forefront of your thinking, so that your content can rank as highly as possible across multiple online search engines.
The same will apply to all of your marketing tools, without placing your maximum effort, as well as a little bit of cash, into this section of your business, you may well struggle to find an audience that wants to give you and your service the time of day.
Try not to ignore your back-office functions
Only by offering the very best service to your clients and customers will your new startup recruitment agency become a long-term success story, though we are sure you are already aware of this.
A particular point that many new recruitment agencies falter is when they are faced with endless amounts of back office tasks that have been piling up for some time. Especially for those supplying temporary professionals who have the responsibility for processing timesheets and taking care of payroll duties.
Try not to let this be the case for your agency and get the work done as soon as you can so it isn't sat there building up overtime. You will not become overwhelmed by the sheer amount of back-office work there is to do if you handle it efficiently from the moment you start your business venture.
Never undervalue yourself
Deciding on the price you are going to charge for the number of services you provide will undoubtedly be a prolonged task, though it is one well worth thinking about for a decent amount of time. The balance is always tricky to get right as you don't want to go too high and risk deterring a client you have only just managed to win over, but you also do not want to go too low either, for obvious reasons.
You may believe it is a smart strategy to try and undersell the big players within your industry, so that you can win over some of the market share while you are still in the early stages of your career. However, it is always important to remember your value, as well as the experience you have of the sector you are running a business within.
Furthermore, if you then decide in the future you want to increase your prices to match other businesses in the same industry, you will put off the clients you have already established a connection with. Thus, you are actually better starting off with that higher price point that you may be able to drop down from in the future.
Recruitment laws and regulations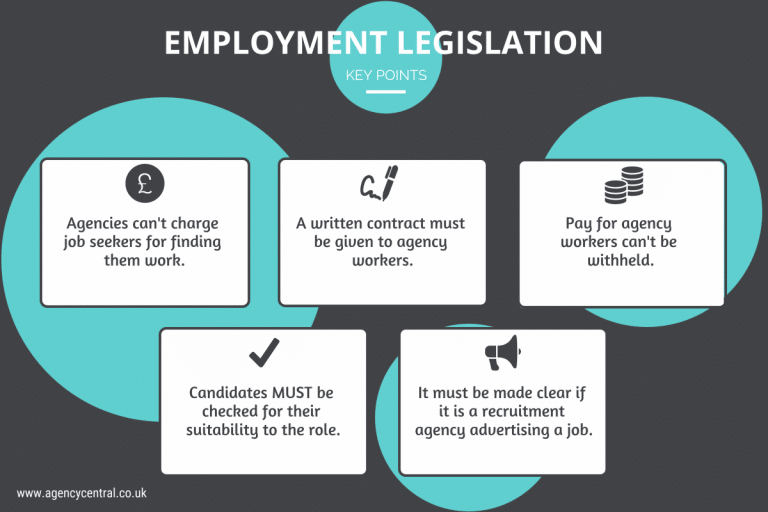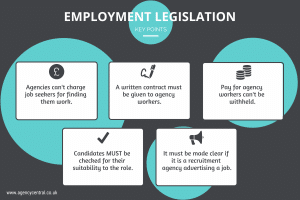 The recruitment industry is covered by the piece of legislation that is known as the Employment Agencies Act 1973. Anyone looking to start an agency business, will need to understand this legislation. The REC which governs the industry has made a number of helpful guides, they have summarised the main points via infographic.
Source: Agency Central
The REC has also created the REC Code of Professional Practice, which aims to promote self regulation and standards across the industry. This covers the following 10 areas:
Respect for Laws
Respect for honesty and transparency
Respect for work relationships
Respect for diversity
Respect for safety
Respect for professional knowledge
Respect for certainty of engagement (ensuring that workers are fully informed of the pay and working conditions for the role they are being employed in)
Respect for prompt and accurate payment
Respect for ethical international recruitment
Respect for confidentiality and privacy
Recruitment Business Start up Costs
Start up costs for a recruitment agency doesn't have to involve lots of up front payments. Most agency owners have started out from their back bedroom, this keeps the costs of starting a recruitment agency low at the beginning. There is inevitable a need for need enough money to see you through the lean first months.
There are the obviously the essential tools that any recruiter requires such as a telephone, email address and company formation, both of which can be set up very quickly and relevantly cheaply.
Read more: Alternative financing for startups
Consider Recruitment Finance
Invoice Factoring is a type of business finance which releases cash currently tied up in outstanding customer invoices. As a new start up business, cash be tight and the wait for clients to pay your recruitment firm will be over 30 days, Recruitment agency funding is a great fit, to ensure there is cash to pay your staff regardless if they are weekly or monthly paid.
This recruitment finance solution is ideal for helping fund expansion plans, improving your cashflow and collect payment from your customers. There are two main types of funding options: factoring and discounting.
With factoring the finance provider will fund and carry out credit control. Invoice factoring is simply a way to release the money owed in funds that's tied up in your unpaid invoices.
Instead of waiting for your customers to pay, you borrow against the money you're owed and is a type of debt financing. Not only do you get the money you're owed without the wait, but we also chase up your outstanding sales ledger for you with debt collection services.
There are a number of different types of finance for recruitment agencies which offer a fixed term and low interest repayments as well as confidential client accounts.
How to start your own recruitment agency
F.A.Q's
How much can a startup recruitment agency make
In the UK, startup recruitment agencies make about 33% gross profit, according to Companies House, the average turnover in year one is about £250,000
How to startup a recruitment agency
To start a recruitment agency, most start out of a spare room in their house, until the business is generating enough profit to move into a commercial property.
Conclusion
Starting your own recruitment agency can be a challenging but rewarding endeavor. It involves building a team of professionals who can source and match top talent with businesses in need of their skills. The first step is to conduct thorough research on the industry, including market demand, competition, and legal requirements. Developing a strong brand identity and creating a marketing strategy will help attract clients and candidates.
It's also important to establish effective processes for interviewing, screening, and selecting candidates, as well as managing client relationships. Building a strong network of industry contacts and leveraging technology tools can further enhance the agency's success. While starting a recruitment agency requires hard work and dedication, the potential for financial and professional success makes it a promising opportunity for entrepreneurs.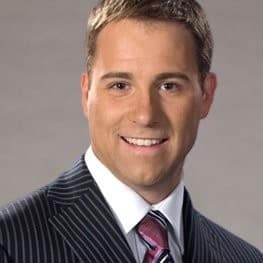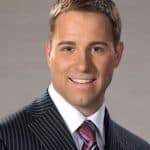 Seasoned professional with a strong passion for the world of business finance. With over twenty years of dedicated experience in the field, my journey into the world of business finance began with a relentless curiosity for understanding the intricate workings of financial systems.